Ducks to water! The best water activities are in Cala Montjoi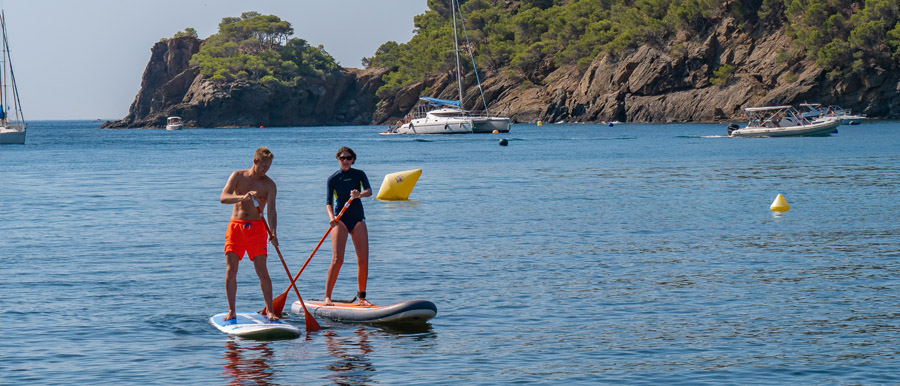 Enjoy the wide proposal we offer, fun is guaranteed!
A trip to the Costa Brava It is only complete when we enjoy water activities. Therefore, when you stay in Cala Montjoi, we offer you the most fun water sports that will allow you to be part of this privileged environment that surrounds us.
Direct access to the sea in Cala Montjoi It is the perfect excuse for a family vacation where fun is not lacking at any time. The options are many and range from diving and snorkeling to inflatables in the water. Get ready for an unforgettable experience!
Family Paddle Surf
There is no doubt: Paddle Surf is one of the star activities of Cala Montjoi and, as good things are enjoyed more in family, we have just incorporated the family Paddle Surf, the perfect option to enjoy with groups of up to eight people! You just have to stand on a board and row coordinating with your team. Perfect to test the balance!
Kayaks
In Cala Montjoi Kayak adventure is guaranteed! Throughout the day you have the possibility to take advantage of, for free, the kayaks to walk while enjoying the incredible views.
In addition, if this is not enough, you can also enjoy our weekly excursion with a specialized monitor. We will give you the material, and all you have to do is admire the wonderful coast of Cap de Creus stopping in some coves of incredible beauty.
Water activities in Cala Montjoi are one of our guests' favorite pastimes, and is that ... what is better than enjoying a fun family time in the best surroundings of the Costa Brava? Live a unique holiday in Cala Montjoi!